Task Force Phoenix hosts intense Equal Opportunity Leader course at Camp Buehring, Kuwait
US Army | Nov. 30, 2021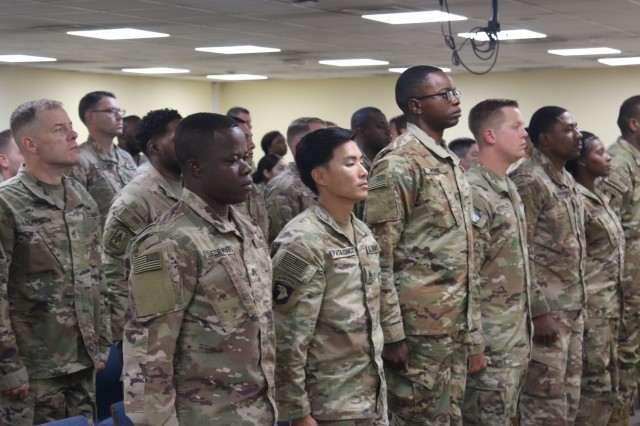 CAMP BUEHRING, Kuwait: Task Force Phoenix facilitated a seven-day Equal Opportunity Leader course in November at Camp Buehring, Kuwait. Forty-three Soldiers from units deployed to Kuwait, Bahrain and Saudi Arabia participated in the intense course that consisted of lectures, discussions, practical exercises and group presentations.
The course informed participants of the purpose of the U.S. Army's Equal Opportunity Program and trained them to detect issues of discrimination in their units based on six factors: race, national origin, color, religion, sexual orientation and sex or gender; as well as issues of harassment based on hazing and bullying. The students were also trained on how to conduct Equal Opportunity briefings and training for their home units.
Upon completion of the course, participants were qualified as Equal Opportunity Leaders (EOLs) for their units. Qualified EOLs serve as advisors to their commanders, help them assess the command climate and serve as eyes and ears regarding issues of discrimination, hazing, bullying or other disrespectful and discriminatory behaviors.
"The students come in a lot of times and are not aware of what an EOL does, so we start off by letting them know the roles and duties of the Equal Opportunity Advisor (EOA) at the brigade level, and the EOLs at the battalion and company levels—their responsibilities, which are very specific in the regulation, AR 600-20," said Maj. Carmen Barteling, the EOA for Task Force Phoenix, a combat aviation brigade on a nine-month mission to provide full-spectrum aviation operations across the Middle East for Combined Joint Task Force - Operation Inherent Resolve.
The EOL course was sponsored by U.S. Army Central. Barteling was instrumental in bringing the course to Camp Buehring. She was a co-coordinator for the course with Maj. Glenn Lloyd from the 1st Theater Support Command. Barteling reserved facilities on Camp Buehring, acquired supplies and resources and served as an instructor and facilitator for classes. The classes included a wide range of topics, such as bystander intervention, hazing and bullying, and perceptions and stereotypes.
"It was definitely an eye-opening course," said Staff Sgt. Tyreek Ayler, who serves with B Battery, 1st Battalion, 7th Air Defense Artillery, and who was the course honor graduate. "Some things that you think are humorous, like words or phrases or stereotypes, can be offensive to certain people. Not a lot of people speak up when they are offended."
Ayler said certain behaviors can diminish a formation by lessening morale and diminishing the trust Soldiers have in their NCOs and officers. "The class opened us up to the severity of the issue and the importance of it. How you combat it as an EOL, is if you hear it, stop it. Don't give in to the bystander effect."
During one training event, called the StarPower game, students were separated into three groups: a privileged group, a middle group and an oppressed group. Each group was treated differently, with the privileged group sitting in the shade with cold beverages and snacks, the middle group half in the shade with a few chairs, and the oppressed group in formation in the sun and put in the front leaning rest. The middle and oppressed groups attempted to maneuver to the privileged group, which attempted to maintain its position.
"We're trying to show them the reality of society and how there are systemic obstacles when people try to get ahead," said Sgt. 1st Class Akkhadeth Thaodara, a course instructor and EOA from the 3rd Expeditionary Sustainment Command.
Sgt. 1st Class Keith Frazier, an EOA with Area Support Group - Kuwait, yelled at the oppressed group and smoked them under the sun. "We tried to make them feel what it's like to be discriminated against based on their position in life," he said, adding that the exercise was meant to teach empathy for those who face discrimination and to step in and help when they see it. "One of our goals as an EOA is to create and promote a culture where everyone feels included and valued."
Barteling said the EOL course is critical to building and maintaining an Army culture of dignity, fairness and respect for all Soldiers.
"It was a very lively class," she said. "They had a lot of interaction. There were some interactions that at times got a bit engaged with some strong opinions. With that, they kept it respectful and that's critical and important to having a successful outcome. I think the more people who have this training the more that we can make a difference in our organizations."
Task Force Phoenix Commander Col. Alan Gronewold addressed the newly trained EOLs at the graduation ceremony. "I challenge you to make a difference in your organization, help those being bullied, and have the intestinal fortitude to discuss inappropriate behaviors with anyone regardless of rank," he said. "Be a combat multiplier for your command—help me keep this force healthy, robust and diverse."