Family members take peek into plebes life at West Point during Plebe-Parent Weekend
US Army | Mar. 7, 2023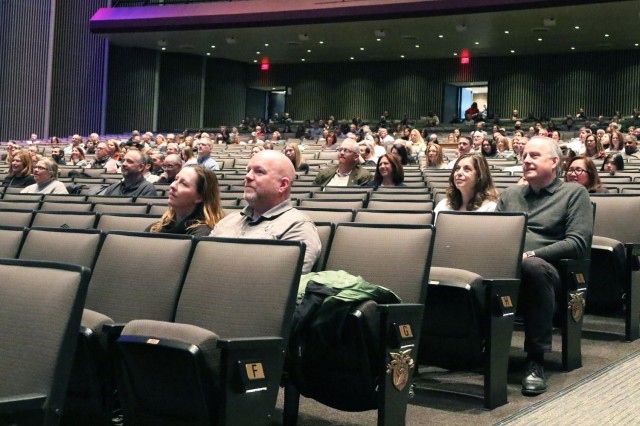 The atmosphere may feel like it's been a nonstop roller coaster ride of exertion and emotion for the more than 1,200 cadets of the Class of 2026 since their arrival to West Point on Reception Day in June. However, now it was their chance to unwind from their daunting schedule and spend time with classmates, family and friends in a relaxed environment during Plebe-Parent Weekend March 3-4 at the U.S. Military Academy.
About 2,000 parents, siblings and significant others traveled to the rockbound highland home of their plebes to get a sneak peek glimpse into their daily lives and enjoy a weekend of gatherings to celebrate their first big milestone within the 2022-23 academic year.
The two-day event was jam-packed with ample amount of things to do that included the guests visiting the Cadet Uniform Factory to see how cadet uniforms are made and altered, the Parent Welcome Center at Eisenhower Hall offering information tables and gift shopping, and the archives and special collections displays at Jefferson Hall Library presenting a reflection of cadet life, West Point-related memorabilia and items from the library's rare book collection.
The first day also included presentations at Eisenhower Hall to the parents by Dr. Jon Malinowski, professor in the Department of Geography and Environmental Engineering, on West Point's historic buildings, and Brent Matthews, associate dean for Academic Enrichment, on scholarships, the Study Abroad Program and Academic Individual Advanced Development opportunities available to the Class of 2026 cadets. The visitors ventured into Quarters 100, the superintendent's historic residence, for a tour while also touring the departments during the "Meet the Major" portion of the afternoon where they had a chance to see what their cadets will be learning over the next three years.
The second day offered a few major events during the day and evening that started with the plebes receiving their National Defense Service Medal during a ceremony outside their individual barracks, followed by an open house opportunity to see the barracks and the inside additional buildings. One of the annual events, the Plebe Review, was cancelled due to the weather. As the day ran into evening hours, it was capped with the banquet in the Cadet Mess Hall with guest speaker Command Sgt. Maj. Ruth Drewitt, from U.S. Army Garrison Aberdeen Proving Ground, Maryland, and a hop for the cadets and guests to dance and enjoy refreshments in Eisenhower Hall Ballroom.
The weekend gave the plebes a chance to feel more like upperclassmen than what they are used to on a daily basis.
"It's very nice to get some privileges and privileges the upper class has so we didn't have to be all rigid," said Class of 2026 Cadet Scott Bellows.
Bellows was excited to show his dad, Peter; mom, Melissa; and fiancée, Carmen Chan, what his world is like every day and what he has gotten used to over the past eight months in this academic environment, especially at the open house at the Electrical Engineering Department.
"I showed them all the technology and opportunities we have," said Scott, who is prior enlisted as a 35F (Intel Analyst). "I loved showing them the Boston Dynamics Dog, which is very cool to see and (my dad) got to drive it around.
"It's exciting getting to share my world, getting a chance to loosen up and celebrate a little bit with everyone who has been a part of this journey," he added.
Scott, who will be a Cyber Science major, was especially ecstatic to bring his dad to the open house since he is an electrical engineer who just finished working for Raytheon.
Peter Bellows, who resides in Clemmons, North Carolina, said this was his first trip to West Point and spoke highly on how impressive of a place the academy is.
"I think there are multiple levels of being impressed – the architecture is really cool to look at, but what impresses me most is the spirit of the place," Peter said. "You read the quotes from (Douglas) MacArthur and others and hear the phrase 'Duty, Honor, Country' – it's inspiring to see that patriotism and commitment to duty."
During the visit, he was interested in seeing what his son is studying and sat in on a physics class.
"The teacher was very good and had a good way of interacting with the students and making the learning very engaging," Peter said. "They were studying potential and kinetic energy, the conservation of energy, so they did an experiment where they hold a bowling ball, it's suspended from the ceiling, they hold it up in space, let it go and because of the Laws of Physics, it stays there and the ball doesn't smash into your face. It's a good way of teaching conservation of energy."
It is in these moments where Peter sees how Scott continues to grow intellectually, but, overall, his growth in all aspects of his life since coming to the academy in late June.
"He's had some really neat opportunities here, both the prescribed things as well as the optional, volunteering things that he's gotten to do," Peter said. "It certainly seems like he's grown in confidence and leadership skills. He's always been smart, so I don't think the academics are too hard.
"Learning is a cool thing while he's doing science and math classes that I used to do back in the day," he added. "It is fun to compare notes about the things he's learned and what I learned – it's good fun."
Scott was most excited about the banquet over the weekend where he got a chance to show off his full-dress uniform, and then the hop where he was able to spend time with his fiancée, who was excited about the whole experience.
"I love taking a peek into his world, it's very interesting," Chan said. "I'm really proud of him for all the hard work he's put into it, and getting to see that manifested into something that can change his life – it's really impressive and awe inspiring.
"Overall, I am so excited about the banquet. I've met so many people through him," she added. "I've met other girlfriends and significant others, and it's going to be so exciting to finally meet them in person because I have only talked to them over social media and online, so it will be cool to see everyone."
The main part of the banquet included the unveiling of the Class of 2026 crest for everyone to see for the first time. Now the class with the motto, "For Country We Commit," is now linked to something more visually tangible than just words on a banner like they marched with during March Back in August.
As explained by Class of 2026 Cadet Daniel Hyung-Jun Kim, class ring and crest committee deputy chair, "The hanging crest is a vivid reflection of the United States of America, with eight stars and four stripes adorning each flag, uniting to form the emblem of their class – 26.
"The eagle, a symbol of pride and freedom, soars majestically above the banners, with its wings outstretched, ever vigilant in guarding our nation's honor. Its sleek and resplendent appearance serves as a reminder of our country's continual progress and advancement with the changing times.
"The sabers, resting gracefully over the flags, signify our commitment to defend our nation with action and not solely words. We stand ready to defend and protect our great land with all our might.
"And finally, the helmet of Athena, the time-honored symbol of West Point, evokes the ancient and noble traditions of just and righteous warfare," he added.
Kim concluded his speech with, "Now, let us march forward, united and proud, and honor the legacy of our founding fathers, who built this great nation on the principles of liberty and justice for all."
Scott Bellows talked about the visual of seeing the crest now, which makes it permanent and exciting to one day wear it on his finger once he receives his ring in two-plus years. But, more than anything, what the motto means to him and his classmates.
"The motto means no matter where you come from, no matter what your reasons are for serving that it's about committing to the country, to the people and to do what it calls you to do," Scott said. "It really brings together the diverse backgrounds of everyone at West Point."
Class of 2026 Cadet Joaquin Kull, from Ramsey, New Jersey, was also looking forward to spending time with his family – parents, Jared and Stephanie – and sharing his first formal dinner with them and seeing the unveiling of the crest.
"It is extremely exciting to see (the crest)," Kull said. "Our class and all the associate things that go with it, we're extremely proud to be here.
"It is why I am here. I came here to commit to my country, to serve it and to serve it well," he added. "I think it really is representative of how we all feel at the academy and serving in the Army in the future."
Sharing the moment with the people closest to him in the West Point environment also made Kull's weekend feel that much more special.
"I am the first member of my family to join the military, so all this is new to everyone in my family," Kull said. "They are very proud of me. They are very happy to be here with me and to see a little bit of what I do. It is an amazing experience for all of us."