School, Sports and Service
Chris Mendell
Specialist | Army National Guard
Spc. Chris Mendell attends college full time and serves part time as an intelligence analyst in the New York Army National Guard. On a typical weekday he has the flexibility to focus on his education, build professional skills for the future and even hit the ice as a member of the university club hockey team.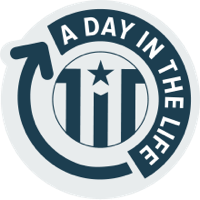 Chris starts his day by making breakfast in his apartment before he heads to class. He'll often meet a friend on his way, to catch up.
After morning lectures and lunch at the dining hall, Chris is typically in the lab. He's majoring in neuroscience with the hope of finding cures for neurological diseases like Alzheimer's.
Chris finishes the weekday with a pickup hockey game. Afterward, he'll meet up with his Army National Guard unit to convoy in military vehicles to a training site at Camp Smith.
After breakfast with fellow Guard members prepared by his unit's culinary specialists, Chris packs up his rucksack and prepares for his one-weekend-per-month training.
Chris leads his fellow Soldiers through a navigation briefing, which provides valuable insight into strategic plans of action, weather conditions and more. As an intelligence analyst, Chris communicates crucial information to Soldiers in his unit so they are prepared in training and combat.
Chris takes part in virtual convoy training meant to mimic Humvees in a deployed environment. By roughly 6PM on Sunday, Chris is back at his New York City apartment, ready to dive into schoolwork in preparation for class on Monday.