Search, Rescue and Recreation
Jamison Ware
Petty Officer 1st Class | Navy
For Jamison, every day is something new. As an aviation rescue swimmer, one day he could take to the skies and the next he could be training in the pool. His days are always filled with excitement, meaningful work and—naturally—water.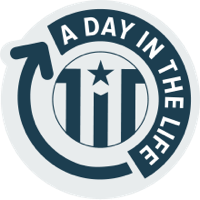 Jamison's morning starts with a fresh cup of "bulletproof" coffee that helps boost his energy and keeps him full.
Jamison drives to base to sign out his flight gear. In his role, he has a variety of missions, from open-water search and rescue efforts to using sonar and other equipment to locate submarine threats.
Jamison heads to the flight line. No matter the mission, safety is important, so Jamison always inspects the aircraft to ensure it is fully operational.
After lunch, Jamison and other aviation rescue swimmers use one of the on-base pools to train, including emergency procedures in the event that someone gets injured and needs to be evacuated from the water.
Once a week Jamison volunteers with a local charity that helps feed the homeless in San Diego. He works with others to make meals and distribute them downtown.
After dinner, Jamison connects with family and friends for a video chat or quick phone call. "They don't have to be time-consuming conversations, just as long as we're present," he says.