Where Future Tech Meets Family Time
Kyle Carpenter
Technical Sergeant | Air Force
As an Air Force cyberwarfare operations instructor, Tech. Sgt. Kyle Carpenter teaches a range of cyberwarfare classes for junior and senior members of the Military.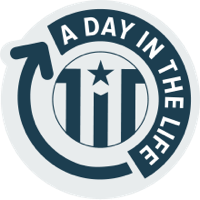 Kyle starts his day with a coffee on the way out the door to work. Once there, he checks email and chats with co-workers before teaching his first class of the day.
Kyle and his class discuss the latest cyberthreats and how to defend against them. Because the Air Force has some of the most complex cyber systems and information technology in the world, it requires the best, brightest and most creative thinkers to stay ahead of any threats.
Kyle teaches an introductory-level cyberspace operations class, which includes the defensive and offensive nature of cybersecurity.
Put your cyber skills to the test. Take the Cyber Challenge.
During lunch, Kyle catches up with friends and colleagues in the shared break area.
In a lab setting, Kyle guides students as they practice planning cyberspace missions and operations. Hands-on training is crucial to being the best in the field.
After work, Kyle coaches his son's baseball team on base. Military bases are a lot like towns with communities all their own. Service members and their families have access to many amenities offered on base, including year-round youth sports programs.
Kyle and his son head home for quality family time. After dinner, they love playing card games.