An Eye for Fulfillment
Brooke Deiters
Corporal | Marine Corps
Everyone dreams of waking up excited to go to work. For Marine Corps combat photographer Cpl. Brooke Deiters, that dream is a picture-perfect reality.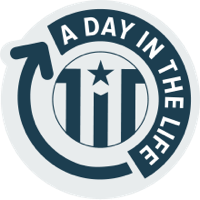 The morning begins with her unit for physical training (PT). Afterward, she eats breakfast at the nearby chow hall (usually mixed fruit and a loaded omelet with salsa) before starting her workday.
After putting on her uniform, Cpl. Deiters reaches for one of her favorite electronic devices: her camera. And then, every day is different. One day, she could be assigned to photograph a new exhibition at the Museum of the Marine Corps and the next she could photograph a retirement ceremony — one of the most memorable moments in a Marine's career.
Cpl. Deiters makes edits to the photos she snapped at her team's on-base studio. When she first became a Marine, Cpl. Deiters went to Defense Information School (DINFOS), a four-month photojournalism course that covered everything from how to use photo editing software to photography in potentially life-threatening situations. After editing, she grabs lunch at an off-base diner with friends.
After lunch, Cpl. Deiters takes portraits of fellow Marines that end up in professional publications, official command websites, promotion boards and more. It's also her job to ensure everything about her subject's appearance is in regulation (service ribbons centered and the proper distance from the shirt pocket, rank insignia properly placed, etc.).
Cpl. Deiters unwinds on her longboard before sunset. She learned to ride while stationed in Okinawa, Japan, in 2015, and loves how it lets her check out the surrounding area — wherever she may be in the world — in a flash. Then she'll usually grab dinner at the chow hall and head back to her room to play some online video games with friends before bed.