Game on Base, Work in Space
Trenton Ching
Specialist 4 | Space Force
Spc. 4 Trenton Ching serves in the Space Force as a space systems operator. He's currently stationed at Peterson Space Force Base in Colorado Springs, Colorado, where he lives in a private on-base dorm with other young service members.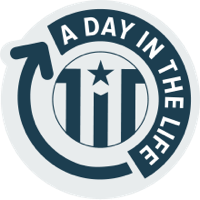 After breakfast at the on-base dining facility, Trenton returns to his room to work on his engineering assignments for an online class at Embry-Riddle Aeronautical University.
Trenton and his team start their workday by maintaining antennas that monitor satellite communications for enemy interference that could disrupt U.S. technology on Earth and in space.
The Military definitely offers a work-life balance. I have a lot of time for myself.
Back at team headquarters, Trenton checks the functionality of the antennas by logging into an electronic warfare system that serves as the central hub for all satellite communications. With everything looking good, Trenton heads to the food court on base for lunch with friends.
After completing his remaining tasks, Trenton walks to the on-base gym and track for a quick workout.
Learn more about on-base amenities
Trenton finishes his day by grabbing dinner with friends at the dining facility before settling in to play video games before bed.