Piloting Meets Parenting
Des Fournier
Lieutenant | Navy
Navy pilot Des Fournier proves it's possible to love your job and have time to focus on your family, from sunrise to sunset.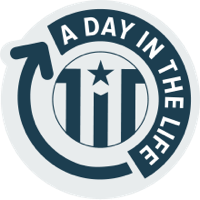 Des heads to the office to assist with his unit's operations. He creates the next day's flight schedules and plans the following two weeks to ensure approximately 20 pilots and 20 aircrew members meet the operational and training requirements to fly.
On the days he flies, Des meets with fellow pilots and aircrew members to review the day's mission, coordinate efforts and establish team responsibilities.
Everything I've encountered in the Military is a learning experience and a challenge to become better when it comes to flying.
Des inspects his aircraft to make sure there are no irregularities or signs of damage.
After lunch, Des climbs into the cockpit. His round-trip flights to and from aircraft carriers usually take between two and three-and-a-half hours, depending on the ship's location. The entire mission, from briefing to completion of post-flight duties, is about six hours for a three-hour flight.
Des heads home to spend time with his family. "I love my kids. I'm working hard to set them up for a great future," he says.